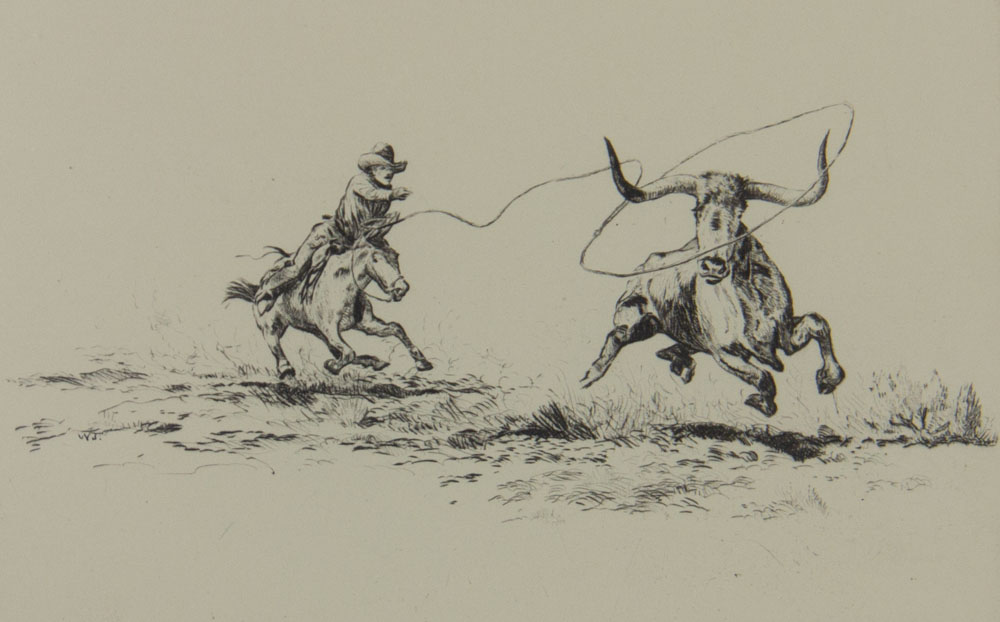 Roping a Longhorn
6″ x 8″ – etching – sold
About Will James
Joseph Ernest Nephtali Dufault, later to be known as Will James, was born on June 6, 1892, in Quebec, Canada. Known for both his writing and his precise pencil drawings, Will's drawing experiences began on his mother's kitchen floor.
At a young age, he departed Canada and traveled to the United States, working and drifting primarily as a cowboy. He served in the army and soon began selling his sketches. In 1920 he married, and shortly after that, he had a brief period of study at Yale University, but that enrollment was short lived because he felt closed in by the environment and missed his wife Alice. During that time, he painted the occasional still life, which was atypical of him.
His writing career began when he sent in an essay, accompanied with illustrations, to the New York offices of Scribner's. His easy-going and casual style, with drawings, provided a combination that editor Maxwell Perkins liked. (Perkins also worked with Ernest Hemingway, Thomas Wolfe, and other notables)
James' pencil drawings were precise and depicted his own experiences as a cowboy. His first novel, 'Smoky', was introduced in 1926 and won the Newberry medal for literature from the American Library Association. He also produced an oil by the same name, again his most famous and recognized work. Two years later his first writing of "Bucking Horse Riders" was sold, and since then has never been out of print. His last book, "The American Cowboy" was written in 1942. He wrote and illustrated 23 books in all, with appeal to a wide audience. His art appeared in the pages of books and periodicals, as well as illustrating the works of other authors.
Will James spent his latter years at his home in Billings, Montana, and on his ranch, the "Rocking R Ranch", at Pryor Creek, Montana. During his lifetime, he was fortunate to watch his popularity grow, as he witnessed movies made from his books. Despite his popularity and success as a novelist and artist, James had a tragic life. He served a short prison term for rustling, experienced an unpleasant marriage, and had a severe alcohol dependency.
His life ended at an early age of 50 in 1942.
Source:
askART.com